Item Description
Titan Elite Speargun with Roller Muzzle with Enclosed Track
Hey Guys,
The MAKO Titan Elite Spearguns are the best spearguns on the planet.
Compare this checklist with any other gun out there.
No other gun offers what these spearguns have!
And, because we sell direct to you (no dive shop mark-up), the Titan Elite guns actually cost less than spearguns without these features.
P.S. Special thanks to Majd (Spear Q8) for his help with every aspect of this project.
Dive Safe,
Dano
Mako Roller Speargun Comparison Checklist:
ENCLOSED TRACK:High impact polymer "SLIDE IN ENCLOSED TRACK" guides the spear in for faster loading and guides the spear out for increased accuracy.
MAKO 100% Stainless Steel Double Roller Trigger Mechanism: Strongest, smoothest and most accurate trigger mechanism ever made for a euro gun. (NO PLASTIC!) Tested to over 1,250 pounds!
HIGH SPEED ROLLER MUZZLE with QUAD Ceramic Bearings much faster and more accurate than rollers without bearings.
SHARK SPIKE ON MUZZLE: protects you from aggressive sharks.
BARREL FLOAT adds buoyancy to roller guns.
STAINLESS STEEL SIDE LINE RELEASE easily holds double wrap of 300lb mono. (NOT PLASTIC!).
INCLUDES COMFORTABLE RUBBER LOADING BUTT PAD (EZ LOAD - NO PAIN and NO SLIP).
BUILT IN REEL MOUNT: Switch from "NO REEL" to "WITH REEL" in seconds.
SHARK FIN TAB SPEARS are twice as strong as notched spears. Includes stainless steel flopper. (NO NOTCHES!!!)
FULLY ADJUSTABLE MAKO POWER BANDS lets you adjust the bands tension from soft, to medium to hard and back to soft.
SHOOTING LINE: 300lb abrasion resistant mono.
SOUTH AFRICAN MUZZLE BUNGIE included on spearguns without reels.
AVAILABLE COLORS: Black, MAKO 3D Reef Camo and MAKO 3D Blue Camo, or "Pinked Out" for the ladies.
ACCEPTS MAKO OPEN MUZZLE. You can easily convert this speargun from an roller muzzle to an open muzzle.
LOAD ASSIST: Includes Wishbone Load Assist - perfect to easily load your shorter Roller Speargun
TWO YEAR WARRANTY on all parts except spear & bands
Titan Elite Speargun features
MAKO Double Roller trigger mechanisms
Roller Speargun vs Conventional Speargun
How to load a Roller Speargun
MAKO Enclosed Track
High impact polymer SLIDE IN ENCLOSED TRACK guides the spear in for faster loading and guides the spear out for increased accuracy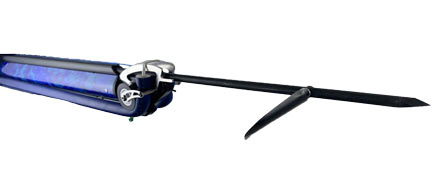 MAKO Double Roller Trigger Mechanism
TESTED TO OVER 1,250 POUNDS!
The strongest euro gun mech ever made.
Two inner roller wheels eliminate friction and increases accuracy.
Switchable left or right side line release easily holds double wrap.
100% stainless steel!
No plastic!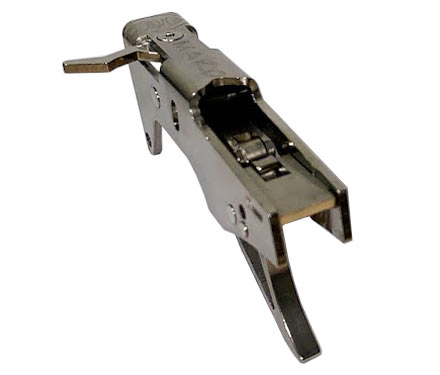 MAKO Roller Muzzle
Quad Ceramic Bearings
Twin shark spikes
Stainless steel arches
Built in line guide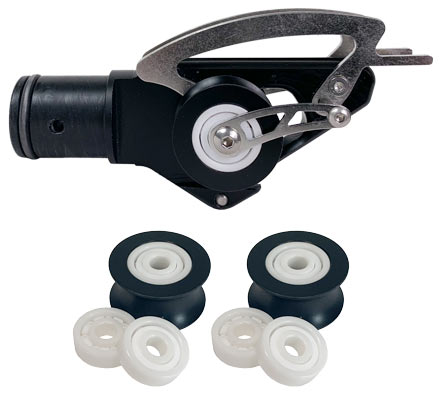 MAKO Barrel Float (removable):
Included on all MAKO aluminum guns with roller muzzles.
Adds needed buoyancy to guns with roller muzzles.
Adds needed buoyancy to guns with reels.
Adds needed buoyancy to guns with go pro cameras.
Built in Reel Mount
Built in "Reel Mount"
Switch from "NO REEL" to "WITH REEL" in seconds.
Accepts all MAKO, Spear Master and many other reels.
Load Assist
The MAKO Hook Style Load Assist with leash and leash plug is perfect for loading roller spearguns as well as long conventional spearguns. We include the Hook Style Load Assist on 100cm and longer spearguns.
The MAKO Wishbone Type Load Assist is perfect for loading shorter roller spearguns. We include the Wishbone Style Load Assist on 80cm & 90cm spearguns.
Additional Load Assists can be ordered here for longer spearguns or here for shorter spearguns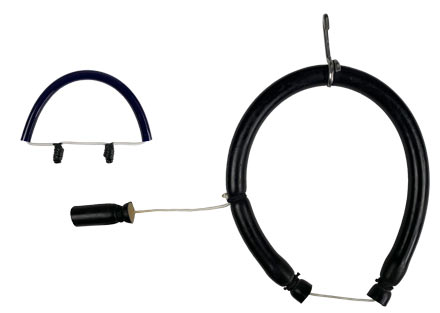 MAKO Sharkfin Spear Tabs
ALL MAKO SPEARGUNS COME WITH SHARKFIN TAB SPEARS!
SPEARS WITH SHARKFIN TABS ARE FAR SUPERIOR! Spears with "Sharkfin Tabs" are 50% stronger than spears with "Notches".
Spears with "Sharkfin Tabs" are available on all MAKO spearguns at no extra charge!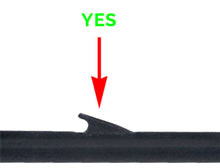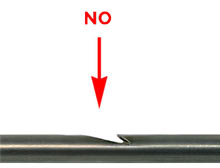 MAKO Power Bands
MAKO Power Bands are by far the best bands in the world.
Made by Primeline USA.
Delivers maximum power.
DOES NOT degrade like foreign latex.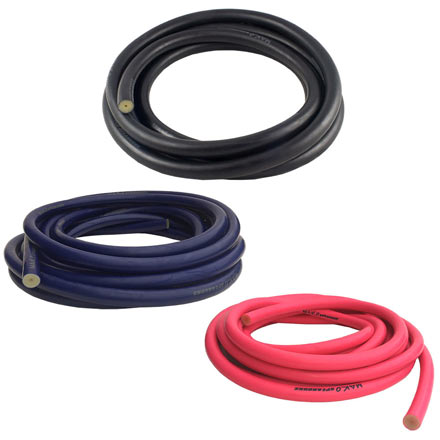 MAKO Rapid Band Change Wishbones
Easy to install, remove and change bands.
Much safer than metal wishbones.
NO SLOTS NEEDED IN YOUR MUZZLE.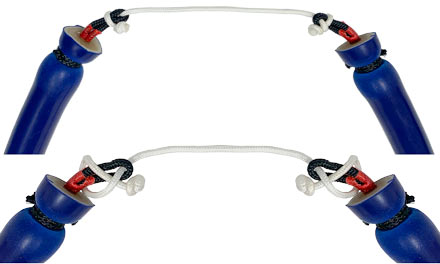 Easily converts to a Standard Muzzle Speargun
Accepts the MAKO Standard Muzzle with shark spike.
You do not need to buy a new handle.

Recommended Option: MAKO High Performance Reel
These High Performance, professional grade series speargun reels are specifically designed and built for the most demanding spearfishermen.
Our Pro Series speargun reels have a TOTALLY UP-ARMORED DRAG SYSTEM which is far superior to any stock reel on the market.
Also includes a STAINLESS STEEL DOVETAIL MOUNTING BRACKET which makes this the strongest mounting bracket available.
Rapid on/off design means you can put it on and take it off whenever you want. Quickly and Easily - no tools required.

Check out the MAKO High Performance Reels here
Recommended Option: Band Sock
Optional MAKO Speargun "Band Sock" protects your power bands and wishbones, preventing nicks, cuts or scrapes while traveling and storing your speargun. The Band Sock protects power bands from UV rays.
Add the Band Sock to your Titan Elite Spearguns above in the configuration boxes

Recommended Option: Spear Tip Protectors
Optional MAKO Corded Spear Tip Protectors have a corded loop for easy storage and access when not in use so you DON'T LOOSE THEM!
They work really well when transporting and storing your speargun.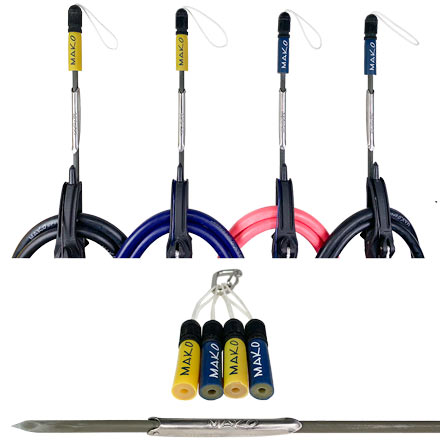 Recommended Option: MAKO Roll-Up Speargun Bag
Finally, a speargun bag made of 100% waterproof material that rolls up (super compact) when not in use!
Salt water, Sand, Rain, Dirt, Mud, Fish Guts…No Problem!
Boat, Beach, Pickup Truck…No Problem!
Holds fish and ice…No Problem!!
Will not rot!
Hose it off when you are done
Rolls up (compact) when not in use… Stores in your dive bag.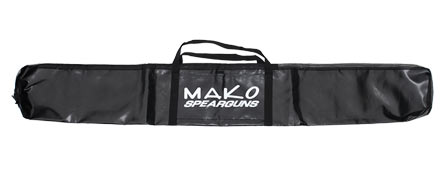 Recommended Option: MAKO Rapid Deployment GoPro camera bracket
The MAKO posi-lock modular camera bracket design ensures the camera is always put back on the speargun in the exact same position every time (in seconds and without looking).
Never point a loaded or unloaded speargun at any body or anything you don't intend to shoot. With the MAKO Spearguns Quick Release Camera Mounting System, you can video or photograph targeted species while in speargun mount mode and also video or photograph non targeted species as well as dive buddies safely and easily in hand held mode.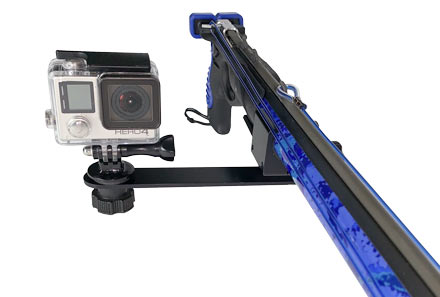 Recommended Option: MAKO Rapid Deployment Flashlight Bracket
The MAKO Speargun Flashlight Bracket mounts to any speargun barrel with the same rock solid design as the MAKO Spearguns Rapid on/off Camera Bracket.
This low profile clamp system installs in seconds and allows for easy control of on/off functions of the flashlight.
And if you are looking for an awesome miniature dive light, this is it!
The MAKO Spearguns Mini 630 Lumens Dive light can also be mounted on your dive mask strap. Works great for hands free operation in caves, holes or during night dives.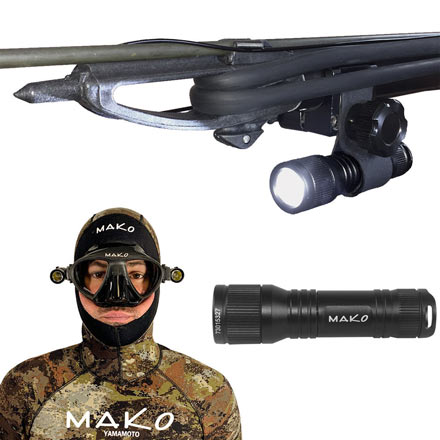 Recommended Option: MAKO High Penetration Spear Cones
The MAKO Spearguns Spear Cones maximize the spear's penetration into your prey by reducing the friction caused by the flopper.
This increased penetration results in a much stronger hold as your flopper engages deeper into the fish.
That means more BIG fish landed!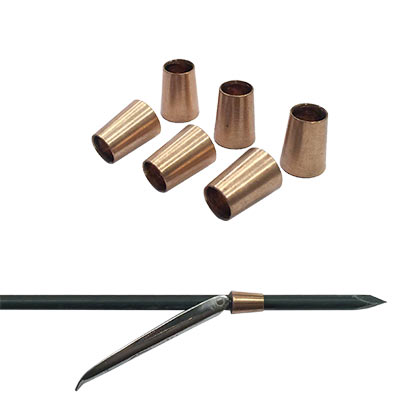 Recommended Option: MAKO High Performance Slip Tip
It is no secret that the South African Spearos are some of the most demanding big game underwater hunters in the world. Made in South African by a team of engineers in cooperation with local big game hunters, we are pleased to offer the finest slip tips available.
Combining brute strength with unmatched precision engineering, the MAKO High Performance Slip Tip is arguably the finest slip tip available.