Item Description
Men's Pro Fiberglass Freedive Fins with INTERCHANGEABLE BLADES
A message from Dano:
"Dear Freedivers,
I guarantee these fins and foot pockets to be the finest fins/foot pockets available. I use the exact same factories as the super expensive brands.
Same factories, same high quality.
But, because I sell direct to you, instead of through distributors and dive shops, my prices are much less than the exact same high, quality imported gear.
Thank you for taking time to view this page.
Dive safe,
dano"
For more on avoiding Dive Shop Mark Ups, click here!
Dive Deeper than ever before with the MAKO Pro Fiberglass Freedive fins.
Designed by freedivers, for freedivers, the MAKO Pro Fiberglass series freedive fins are among the highest quality freediving fins available.
The MAKO Pro Fiberglass freedive fins offer all the outstanding features expected by professional freediver and Freedive instructors:
Extremely powerful
Highly durable, yet very lightweight
Technologically advanced construction
Hydrodynamic stability rails for channeling water
Optimal blade shape for maximum hydrodynamics
Optimal Dimensions: 80cm long x 20cm wide
20 degree bend
Fully interchangeable and compatible with all foot pockets
Available in soft and medium stiffness
Available in Black, 3D Reef Camo, and 3D Blue Camo colors
These are just a few reasons why more freedive instructors around the world recommend these powerful and highly durable freedive fins over any other brand.
Selecting the proper fin stiffness:
In selecting the proper fin stiffness, there are many variables to take into consideration such as a divers weight, divers strength, type of diving and conditions in which the diving will be done. The most standard method is selecting fin stiffness based on the diver's weight and strength.
Because a softer blade is rapidly becoming the preferred blade among freedivers, our soft blades are by far the most popular. For very strong divers and big guys, we also carry a medium stiffness.
SOFT blades are recommended for small to medium size divers and are clearly the most popular. Any diver who does not dive frequently also like these blades.
MEDIUM blades are for larger divers with strong legs.
Note: If you have any questions regarding size, blade length or blade stiffness selection, please feel free to call us. We are happy to help.
Our fins are sold by the pair. If you ever loose a fin, MAKO will sell just one fin. Being so heavily invested in unmatched customer service, we are one of the only companies that offer this.
Selecting the proper fin size:
Available sizes:
Mens: 4-5 / 6-7 / 8-9 / 10-11 / 12-13 / 14-15
VIDEO: Swapping or Upgrading Your Fin Blades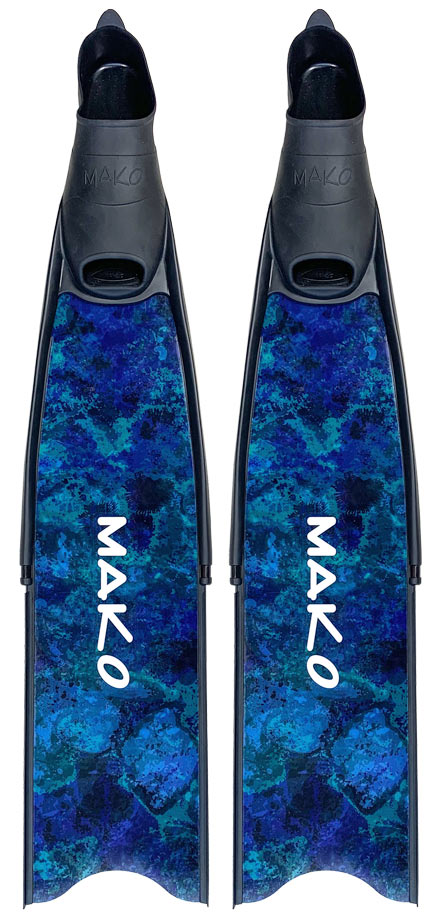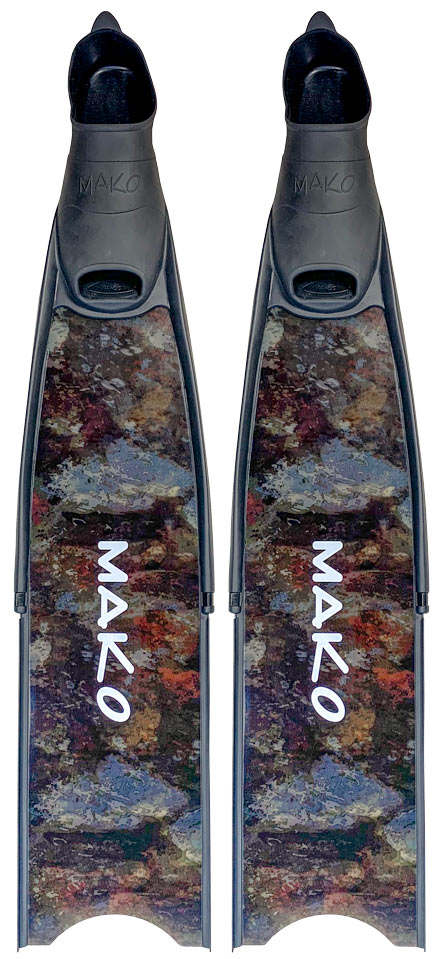 The following size chart is based on divers wearing 3mm or 5mm neoprene socks:
Selecting the Proper Men's Foot Pocket Size

Your Foot Size

And Wearing 3mm
Neoprene Socks

And Wearing 5mm
Neoprene Socks

Mens Size 4 foot

Order size 4-5

Order size 4-5

Mens Size 4½ foot

Order size 4-5

Order size 4-5

Mens Size 5 foot

Order size 4-5

Order size 4-5

Mens Size 5½ foot

Order size 4-5

Order size 6-7

Mens Size 6 foot

Order size 6-7

Order size 6-7

Mens Size 6½ foot

Order size 6-7

Order size 6-7

Mens Size 7 foot

Order size 6-7

Order size 6-7

Mens Size 7½ foot

Order size 6-7

Order size 8-9

Mens Size 8 foot

Order size 8-9

Order size 8-9

Mens Size 8½ foot

Order size 8-9

Order size 8-9

Mens Size 9 foot

Order size 8-9

Order size 8-9

Mens Size 9½ foot

Order size 8-9

Order size 10-11

Mens Size 10 foot

Order size 10-11

Order size 10-11

Mens Size 10½ foot

Order size 10-11

Order size 10-11

Mens Size 11 foot

Order size 10-11

Order size 10-11

Mens Size 11½ foot

Order size 10-11

Order size 12-13

Mens Size 12 foot

Order size 12-13

Order size 12-13

Mens Size 12½ foot

Order size 12-13

Order size 12-13

Mens Size 13 foot

Order size 12-13

Order size 12-13

Mens Size 13½ foot

Order size 12-13

Order size 14-15

Mens Size 14 foot

Order size 14-15

Order size 14-15

Mens Size 14½ foot

Order size 14-15

Order size 14-15

Mens Size 15 foot

Order size 14-15

Order size 14-15

Mens Size 15½ foot

Order size 14-15

Order size 14-15