Item Description
MAKO Fish Bag 4820 - 48"L x 20"H x 10"W
Hey Guys,
My MAKO Fish Bags are the highest quality insulated fish cooler bag designed for the pros, yet priced for the recreational fisherman

These Fish Cooler Bags have 100% Leak Proof Welded Seams with a 3 dimensional "gusseted" shape so they sit upright and expand to hold more than those old school flat fish bags..

My Fish Bag 4820 insulated fish cooler bag measures 48"L x 20"H x 10"W, which is the perfect insulated fish bag for larger reef fish, Salmon and larger freshwater fish.

Dive safe,
Dano
MAKO Spearguns

MAKO Fish Bags.."The cooler fish cooler bag"

Only the best fish bags have ALL of these important features:
100% Leak Proof welded seams. Does not leak like other gusseted fish bags.
3 Dimensional "Gusseted" bottom expands to hold more and sits upright. Does not tip over and spill, like 2 Dimensional flat bags.
Extra thick .625" and highly dense closed cell insulation keeps your ice for up to 4 days.
Heavy-Duty PVC outer jacket resists rips and tears. UV and mold resistant.
Screw on drain plug with keeper ring means you can easily drain and rinse your bag and NEVER LOOSE YOUR CAP.
Auto inflate air valve increases insulation. This is a very important feature designed to keep your ice and catch colder for longer.
Non corrosive marine zipper.
Multiple Heavy Duty Handles with rubberized grips.
UV and mildew resistant thread.
Outer mesh pocket for flip flops and other items.
Buckled straps for easy storage and transport when not in use.
Optional "Interior Eats and Drinks Bag" keeps snacks and bear cold and away from fish slime.
MAKO Direct Pricing: Our bags are the highest quality bags available. However… Because we only sell direct to fishermen, our bags actually cost less because they are not sold on other companies' websites or in stores. (No middle man mark up!) HIGHER QUALITY BAG FOR LESS!

Optional Interior "Eats & Drinks" bag
The perfect accessory for your fish cooler bag. Keeps fish slime off your food and beverages while stored in your fish bag.

It measures a whopping 33"L x 19.75" W, and is not attached to the fish bag so it can go wherever you go.

This bag was originally designed as a shark bag, to keep your catch away from the jaws of hungry sharks while spearfishing. As you can see, it works great as an interior eats and drinks bag as well!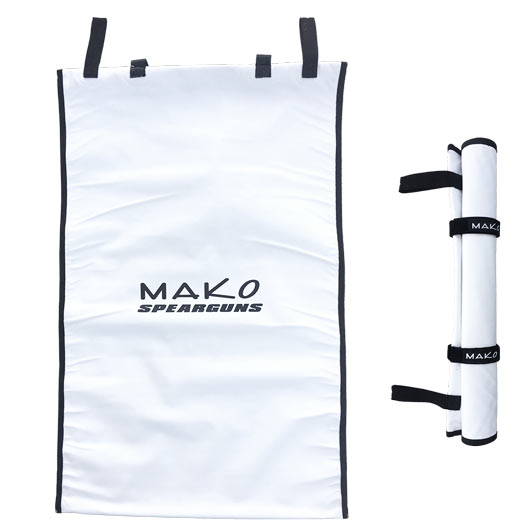 Optional interior eats and drinks bag measures a whopping 33"L x 19.75" W and rolls up when not in use.