Item Description
Freedive Mask with GoPro Mount
Designed specifically for Freedivers!
The MAKO Freedive Mask with Go Pro Mount is a super low volume mask made specifically for Freedivers.
Low Volume = Dive deeper and equalize less!
The low volume requires less equalization, meaning longer and more relaxed dives.
The Go Pro mount accepts all Go Pro and similar camera systems to record all your underwater adventures.
Hey Guys,
Don't let our low prices fool you. We use the exact same factories as the expensive brands. But, we only sell direct to divers.
HIGH QUALITY GEAR - NO DIVE SHOP MARKUP!
Dive safe,
dano
Features Include:
Great for Freediving
Super Low Volume
Adjustable strap with swivel buckles for comfort fit
Works with all GoPro® camera housings
Super-Soft Silicon Skirt fits any face guaranteed
Anatomically correct nose pocket with one handed ear equalization
Dual safety tempered glass lenses
Embedded nut for thumb screw (will not fall out)
Patented camera mount #9,077,877
1 Year Warranty
*GoPro ® Camera not included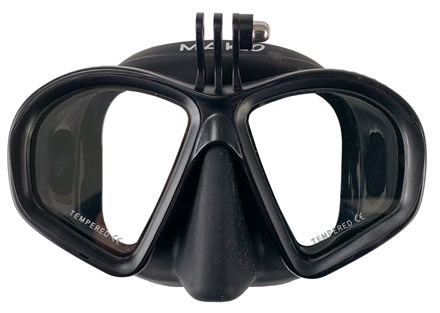 Dive Mask Defogger
Provides long lasting anti-fog protection for your dive mask without harming surrounding silicone or rubber.
Comes in easy application bottle and is safe for all glass and plastic lenses.
Add Mask Defogger to your order using the dropdown menu option above.