Item Description
1000 Lumen Dive Light (Rated to 450 feet deep)
If you are looking for an awesome dive light, this is it!
MAKO Spearguns has teamed up with the world's leading dive light maker, OrcaTorch to offer this amazing dive light.
It delivers a HUGE 1000 Lumens! With 70 degree projection and 8 degree center beam, and is rated to a depth of 150 meters.
The MAKO 1000 Lumen Dive light runs on a rechargeable (one 18650 battery) for 5 hours 45 minutes in Low mode, and 2 hours 5 minutes in Bright mode.
It measures 5.75" long and has a push button on/off magnetic tail switch to easily control the three modes (bright, low, strobe).
Includes:
1000 Lumen flashlight rated to 150 meters deep
Rechargeable 18650 battery
Battery charger
Extra O ring and replacement tail switch
Wrist Glove Flashlight Holder
Operate and store your dive light in hands free mode with this awesome "Wrist Glove Flashlight Holder".
The MAKO Spearguns 1000 Dive Light Wrist Glove is fully adjustable with the Velcro strap and securely holds your flashlight in place while diving.
Diving Light Holster
The Diving Light Holster securely holds the MAKO 1000 Lumen diving light on your belt or BC, so it's right there when you need it.
Made of durable cordura nylon, the Diving Light Holster has a rugged Velcro closure top and fits all dive belts.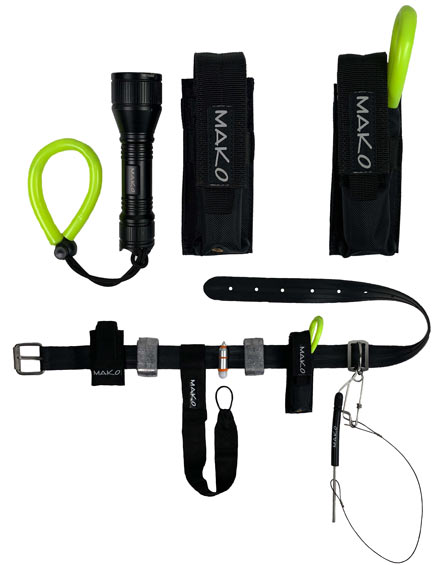 Elastic Lanyard
These elastic lanyards stretch to allow you to pull your hand free when needed.
WARNING! NEVER ATTACH A NON ELASTIC LANYARD TO YOUR COLLECTION GEAR!!
If you get your flashlight caught on something, you must be able to pull your hand free from your lanyard. Not all lanyards are elastic. If your lanyard is not elastic, DO NOT USE IT!
Available in black, neon yellow, neon orange and blue.
Heavyweight Speargun Mounting Bracket (SCUBA)
Perfect for Scuba divers who need a heavy sinking speargun!
The MAKO Spearguns Heavyweight Speargun Flashlight bracket fits on any speargun and mounts the super bright MAKO 1000 Lumen dive light right to your speargun barrel.
If you hunt in rocky areas, you will shoot more fish with the MAKO Spearguns Heavyweight Speargun Flashlight Bracket and light attached to your speargun.
Learn more about mounting the Heavyweight Speargun Flashlight Mounting Bracket on your speargun here